News:
2017
A surge of creativity is bringing limited edition whistles and a new design of Wolfwhistles to my customers. Yippiiieh!
2016
Tippi the pup joined us and the bench has been busy making mainly commission pieces!
2015
A quiet year... our beloved Merlin passed and took some of the joy out of making jewellery...
2014
After all the whistles had sold out we took an inspirational break and are back with more just in time for Christmas! The Wolfwhistle Studios are bustling with another project that we will introduce soon!
2014 also saw us supplying the medal whistles for the ISDS National Championships AND the world winner, the Olympic equivalent of sheep herding!
Well, the Winner Takes It All, Congratulations!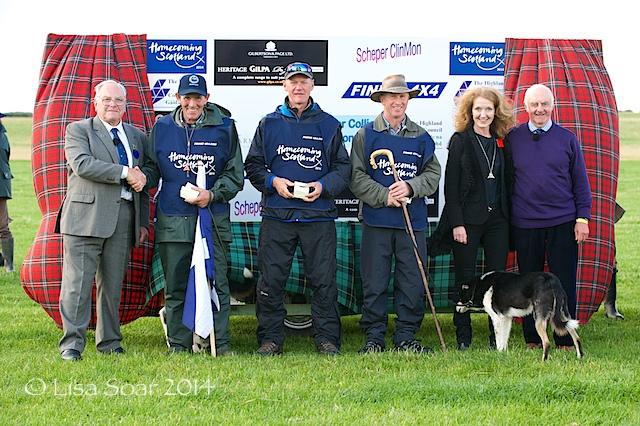 2013
The second half of the year we have been busy raising the pups and finding wonderful homes for them!

Matilda has been filming a feature film with director and DOP Jono Smith in the Scottish Highlands. 'Pylon' will premiere at the Edinburgh Film Festival in 2015!


April News:
Our Matilda had seven puppies in the night of 5-6 of May!
We will be doing a little info page on them to keep you posted on their developments!

March News:
Our Id Tags are in the April edition of Dogs Today! They were chosen as part of the

Six of the best

section by the editors of this fab mag! We are

so

proud!


December News:
Anna Webb and Joanne Good, the Barking Blondes from Barking at the Moon (BBC London Radio) took the Wolfwhistle tags to Live with Gabby on Channel 5 on Wednesday! Big Woof Woof (or Wau Wau as they bark in German) to the ladies and Molly and Matilda! You can catch watch their Pawfect Christmas present line up on You tube!

Tune in to Barking at the Moon on Thursday December 1st on 94.9fm BBC LONDON RADIO or check it out on the iplayer! Gunilla will be chatting with Jo Good and Anna Webb about whistles, training and - without doubt - about a whole lot of other (mostly related) things!
And because Jo Good asked: 'Do you have any pictures of yourself on your site?' we have searched high and low for an acceptable, more glamorous shot of Gunilla (without dog walking boots!) - this is what emerged from the dusty recesses of the Wolfwhistle studio archives: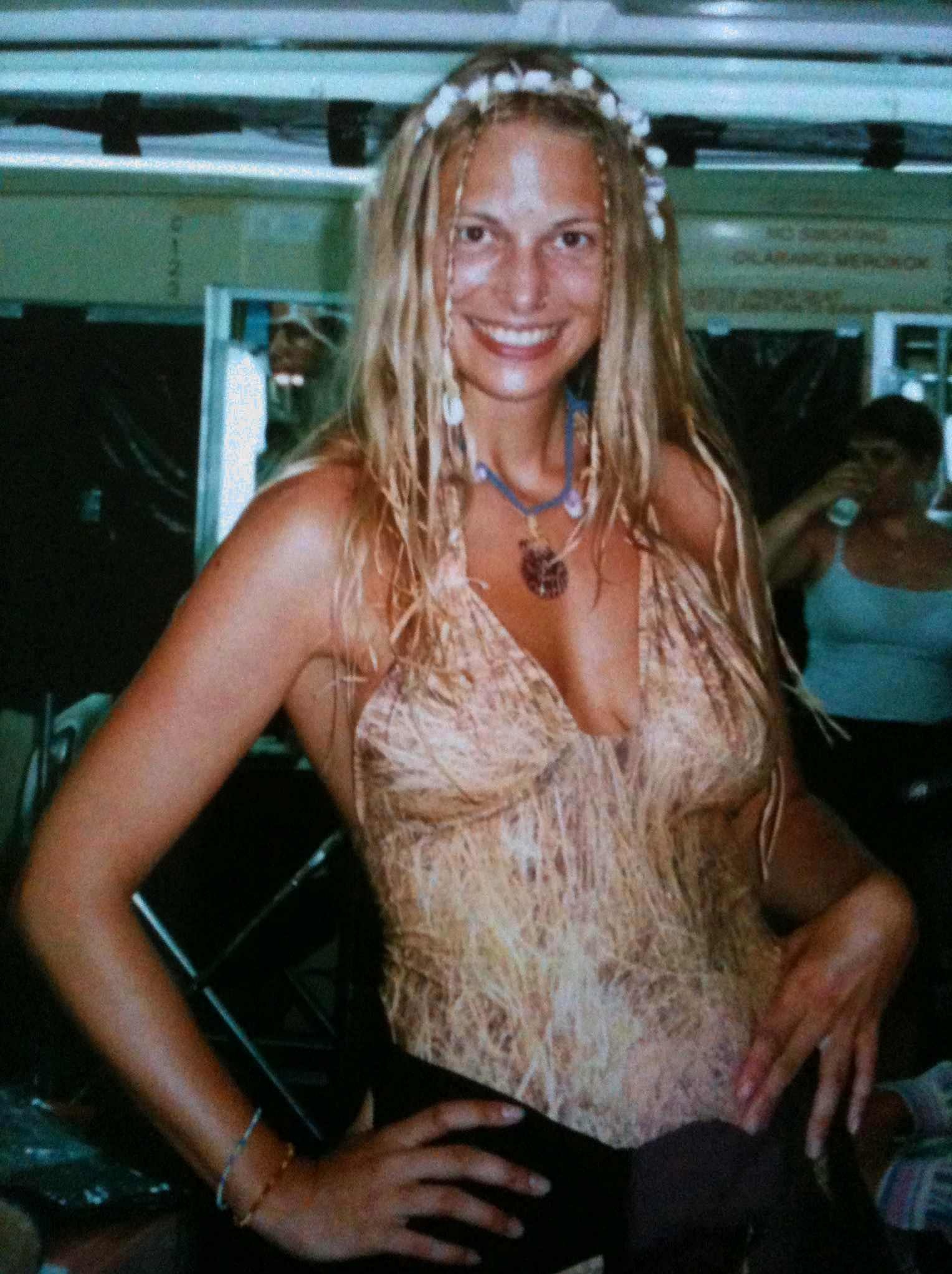 ....and yes, if you are already a proud owner of a Wolfwhistle you may whistle NOW.

And if you haven't got one yet, get in touch!

November News:
Does anybody know Fenton's owner? We would love to give him a Wolfwhistle for FREE so he can practice recall with his dog! Why does he need it?

Have a look at the above clip!
And....we are in Dogs Today again: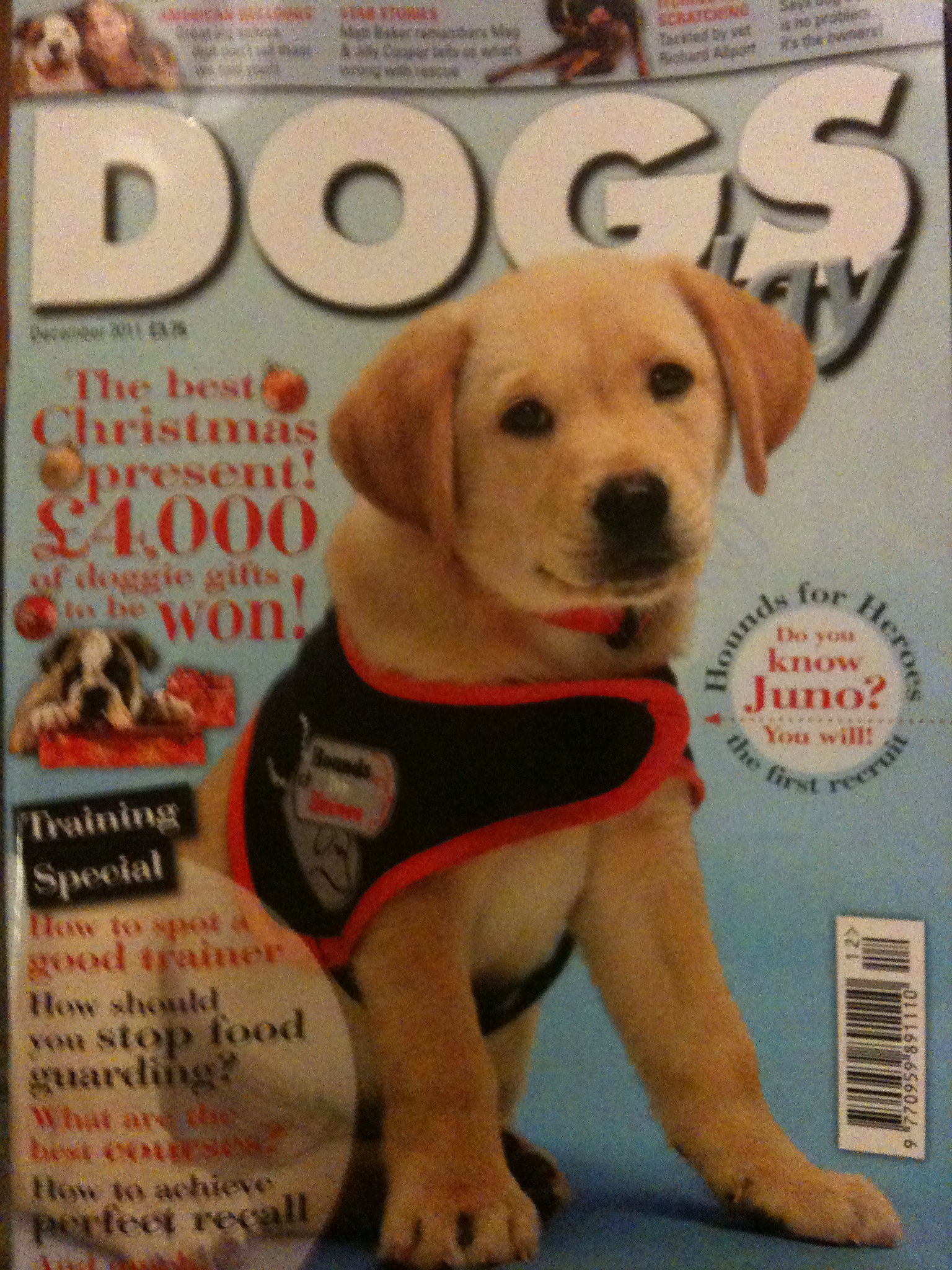 If you are looking for a Wolfwhistle that goes with your beaded collar, have a look at www.melroseandmutt.com where you can purchase SPECIAL Wolfwhistles with an African pattern!
October News:
NEW: STERLING ID DOG TAG PENDANTS!!!!! NOW IN!!!

The blog Have Dog Will Date is up and running - but we need some more readers - otherwise it's very lonely out there in cyberspace....
http://www.havedogwilldate.com or http://www.dogloverdate.me

September News:
Gunilla, the person behind Wolfwhistle Jewellery, will be starting a blog, spilling the beans on her search for a boyfriend who will not only have to be slightly gorgeous but also dog friendly! Sidekicks Merlin and Matilda will feature, too!

August News:

We are working to make Wolfwhistles more accessible for every dog owner, and are looking into developing a silver range that will be under 100GBP incl. P&P! Gunilla has been experimenting with different surface designs and it looks like we are just at the cusp of introducing some new models! Keep checking in with us!

July News:
We are truly going international, Wolfwhistles have been spotted in America, Australia and have just departed to join new Wolfwhistlers in South Africa! But they are also recalling dogs of all sizes from Switzerland to Scotland! Keep your eyes peeled for the new engraving services that we will be able to offer at the end of the summer! Will the next Wolfwhistle have your dog on it?

June News:
The Wolfwhistle Jr Team came second at the local Kew Summer Fayre in the category Prettiest Mutt! Well done and congratulations to the junior handler Maya and the patient and graceful Matilda!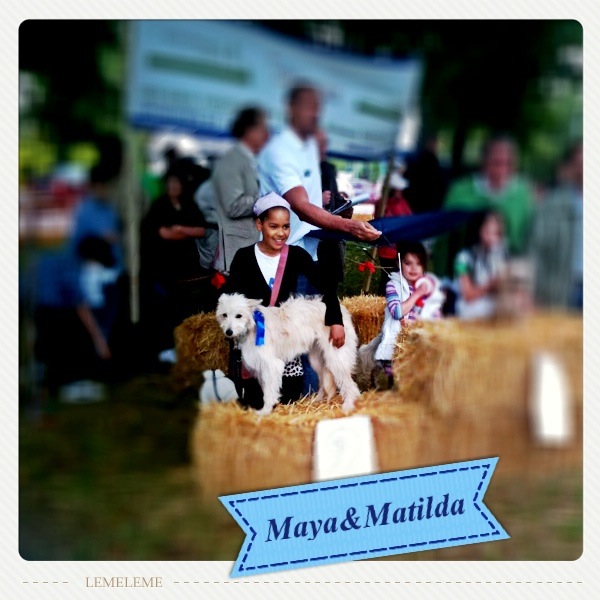 Our friends from Stockdoggems.com are taking the Wolfwhistles to the

big Sheepdog finals in Colorado,

USA in September this year! To find out more have a look at www.sheepdogfinals.com
This just goes to show that our Wolfwhistles are not only beautiful, but are a decent piece of working equipment!!!!

May News:
The Wolfwhistles have made another step across the Big Pond and are not only supporting Adel Miles' Border Collie Rescue Organization 'That'll Do Again' but are now also officially represented by

Stockdog Gems!

Anything you ever wanted to know about herding dogs (in the US and in general), please have a look on Stockdog.com, they really know what they are talking about!

April News:
This month our Wolfwhistles are not only in 'Six of the Best' in the May issue of Dog's Today, but are also featured in the magazine's very interactive Think Tank Section!!!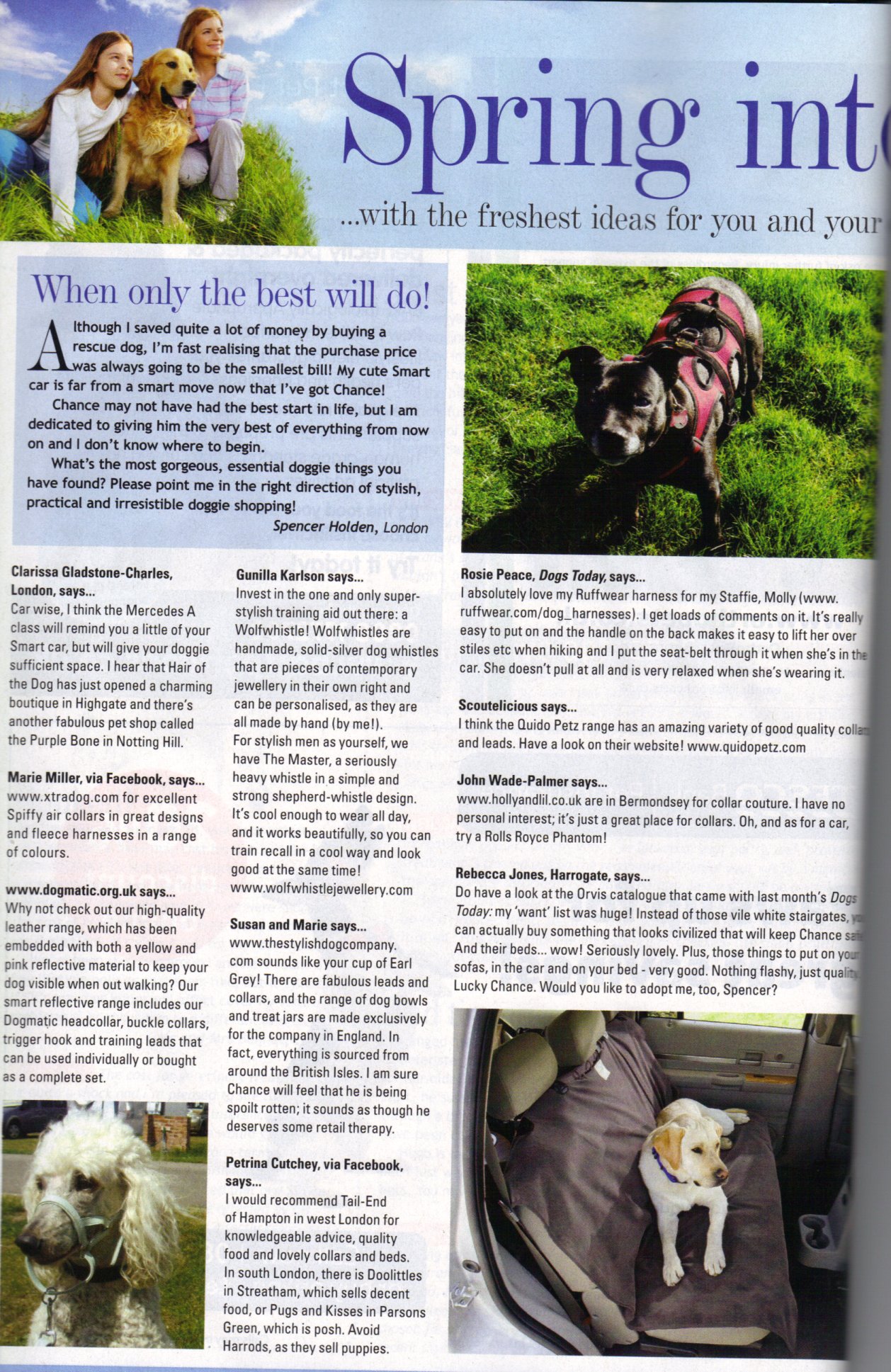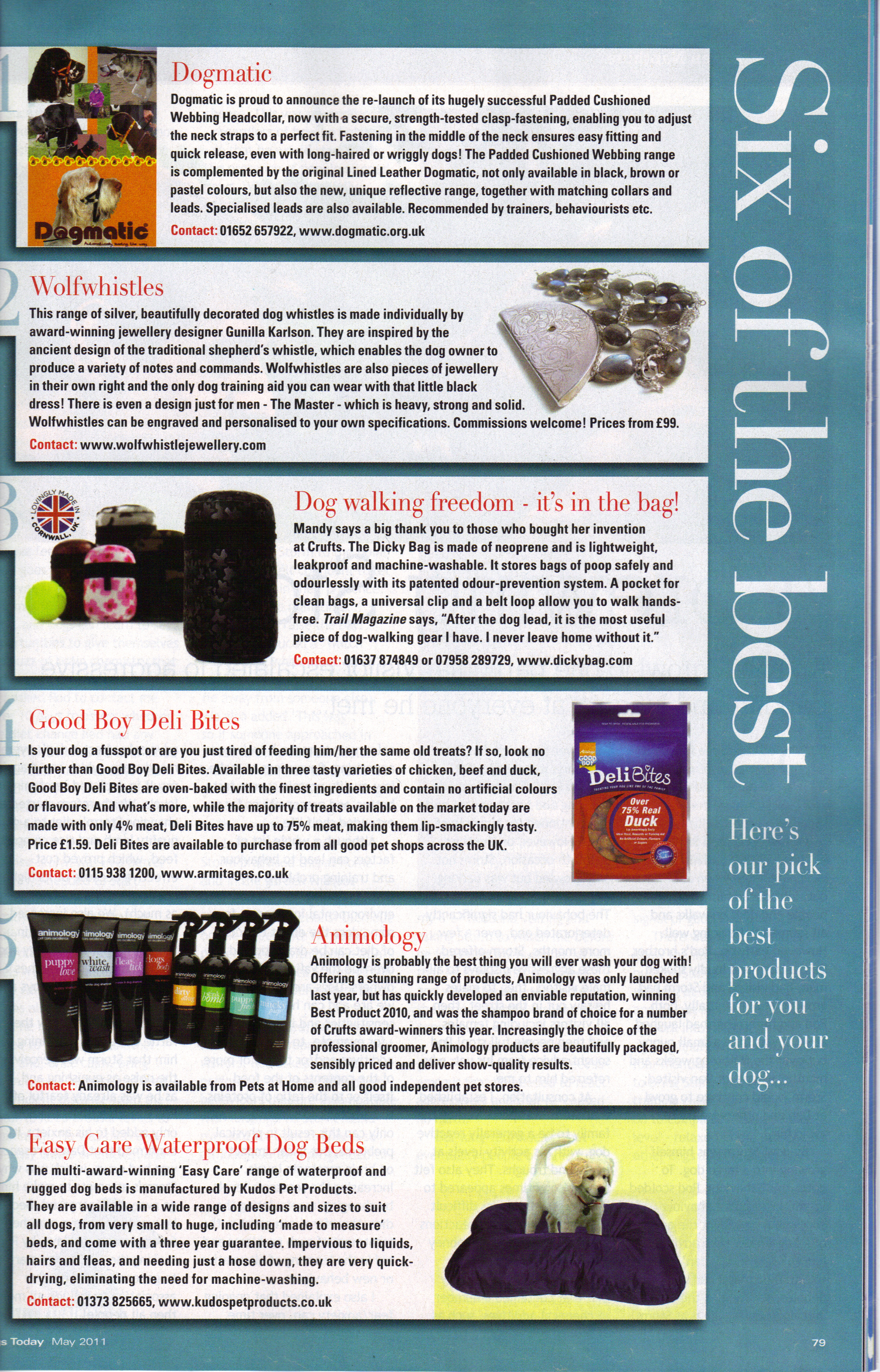 March News:

We finally got hold of a copy of the glossy and classy German Das Dog Magazin! This is bascially the equivalent of Vogue in the dog magazine world! Hurray!!!

AND...if you were lucky enough to have gone to Crufts this year, have a look in the Crufts Magazine...The Wolfwhistles are in it!!!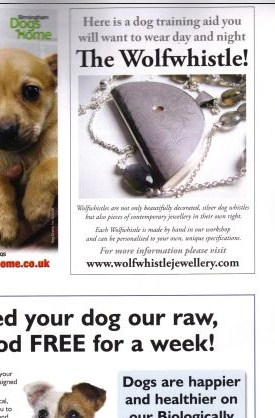 The Wolfwhistles have also been featured by the beautiful new website called Littlepetz, run by animal lovers for animal lovers!

February News:

Gunilla will be designing a range of whistles to help Border Collies in need in the US! More details as they come in!

We have had over 300 letters come already!!!! Enjoy your whistle, Mary from Cornwall !!!!
January News:

You can hear Gunilla chat away with Jo Good on The Sunday Sessions on BBC London Radio 94.9fm on the iplayer!!

December News:
Have a look at the current Your Dog Magazine issue, available at your local newsagent! You can win one of our Wolfwhistles by writing to us!!!

And have a look to the right (below): This is what the Kensington & Chelsea Chronicle and the Kingston Informer had to say about us:
November News:

NEWS JUST IN 24.11.2010 WOLFWHISTLES ARE GOING GLOBAL (well... to Germany!) One of our Companion Style Wolfwhistles, the Pudel (What a star!) has been chosen to appear in the Mercedes Benz of Germany's Dog Magazines: the glossiest, coolest, poshest, superiour quality-est DOG MAGAZIN (a quarerlry publication by Gruner & Jahr!)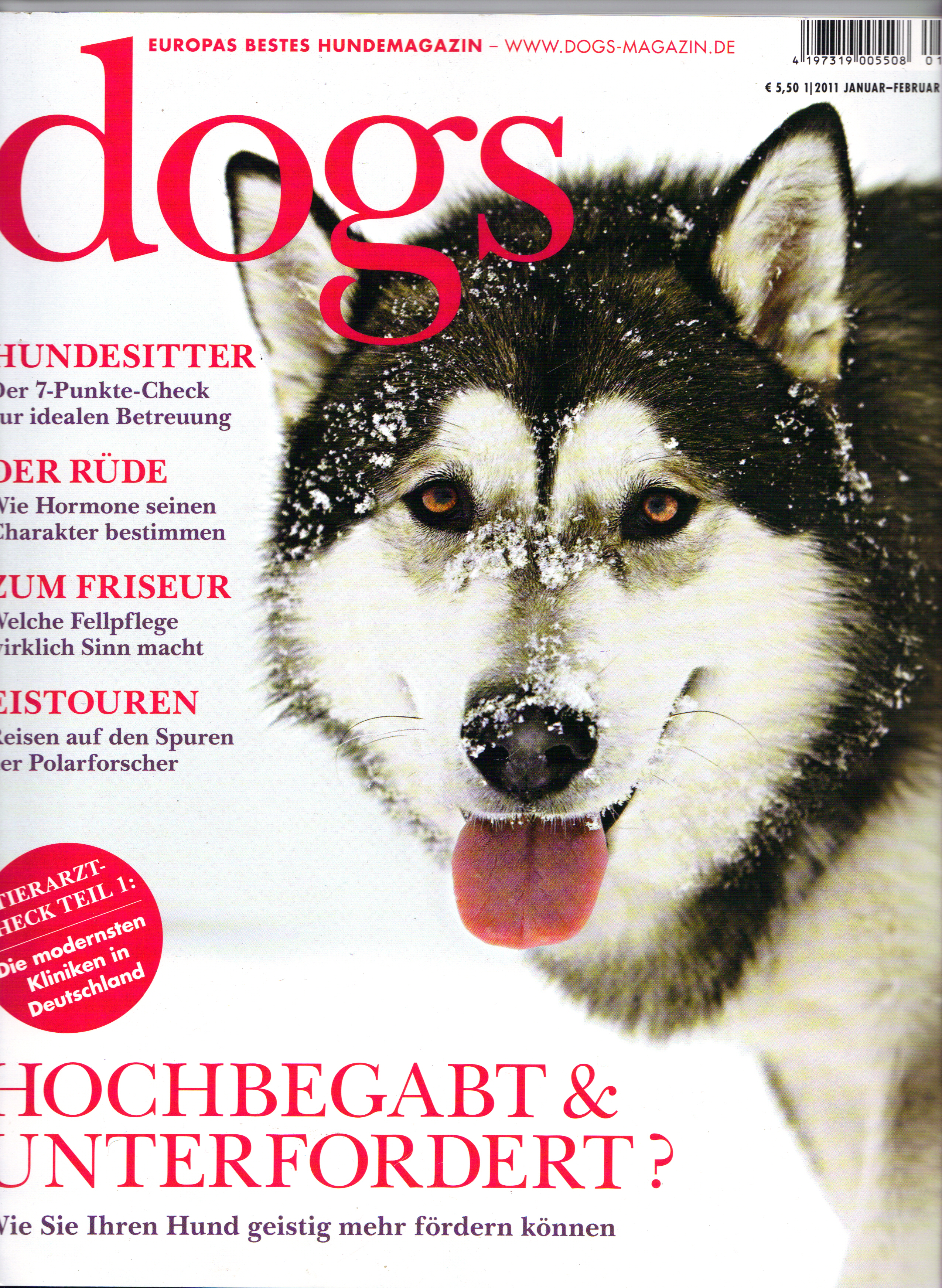 Wolfwhistle inspiration Merlin, the Chinese Crested Powderpuff with the increasing waist line will be featured in January' edition (out mid Dec) of Dogs Monthly! We will be sharing with the readers the experience of living with a IBD (Inflammatory Bowel Disease) dog and the magazine's vet will shed some light on how to deal with the side effects of the medication!

23.11.2010:

Keep your eyes peeled for the February edition of Your Dog, out mid January 2011, where you can WIN one of our Limited Edition Companion Deluxe Wolfwhistles!!!!
Tune in to the Late Show on BBC London Radio 94.9fm at 10pm where Wolfwhistle Designer and Maker Gunilla Karlson will be chatting to the presenter Jo Good and Journalist Jo Payton about Wolfwhistles and life! What amazing ladies to spend an evening with!!!!!! We even had enquiries from Santiago in Chile and friends of Wolfwhistle listened via the internet as far as Singapore and Thailand!

4. 11.2011
Thanks and a massive 'woof woof' to JoAnne Good and Anna Webb for inviting Wolfwhistle jeweller Gunilla to the Barking of the Moon part of the Late Show on BBC London Radio 94.9 on Thursday November 4th, 2010.
The girls made Gunilla feel welcome and at home and it was an absolute pleasure to be interviewed! To listen to a excerpt of the show (and some whistling) please click on the speaker icon at the bottom of the page!

For those of you who are not yet in the know, this is the only radio show dedicated to dogs, their owners and the dog world! It features people and celebrities that have all one thing in common - a huge love for dogs!
17.11.2010

Anna Webb has just twittered that she is still perfecting that pawfect tune on her Wolfwhistle (17 November 2010)! Don't give up, Anna! Molly will love you for it!!!
12.11.2010
And handsome Joe Mott of Daily Star on Sunday fame has been spotted with Wolfwhistle bling in his 'doggy-hood'! In his own words: '...it's rock'n roll!'